Greenfield Puppies Reviews
We love dogs and people and people with dogs.
We bought a black lab a year ago, and I have bad many dog's in my time, and I would like to tell you, my dog Diamond is probably the best dog I have ever had, I have seen blogs putting down Amish breeders, and all I can say is that is all lies and miss guided propaganda! I have always had great experiences with the Amish,and I believe we should give respect where respect is due!
My dog has no health issues, temperament is perfect, and she is very obedient, and loving, and she is a great hunter!

Martin K.
The breeder was very nice and professional and we found a new addition to our home. Our puppy Bella (a Shih Tzu, Maltese and Bichon mix) is very sweet and very very smart.

Take the ride and get a friend and companion who will brighten your days

Christine Daley
Although it was a long ride for us the people that were there Dave was very pleasant and the family was wonderful we are enjoying our lovely little puppy we now call him Roscoe and he is very healthy if it wasn't for him we wouldn't have them thank you Dave. We are enjoying our little boy boxer Brindell. From PA Gratz. Love him!

Cindy Pacheco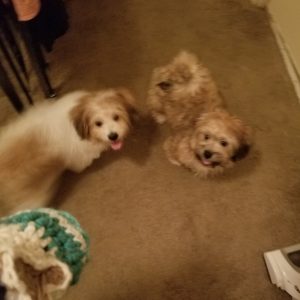 I have two Shih Tzu Bichon mixed puppies. They are so funny and they act just like kids. They are 6 months now and this is the best decision I made. My partner and I was skeptical about where and who we were getting our babies from. Lilian made sure that we were taken care of and updated every step of the way. Cotton has anxiety and she assured me that he would come around. She checked on him every few days to make sure that we were all ok . She even stayed in contact after their doctors check up. I loved how professional and honest this process has been. You are alright in my book Greenfield.

Nicole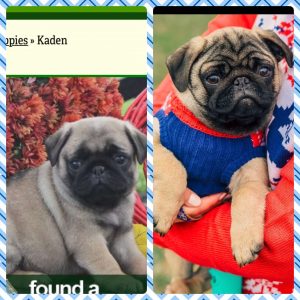 Mochi, formerly known as Kayden is now four months old. We got him at 12 weeks and he has been the best puppy anyone could ask for. He is very smart and already knows how to sit, give high five, and play dead. He puts a smile on everyone's face when they see him.

James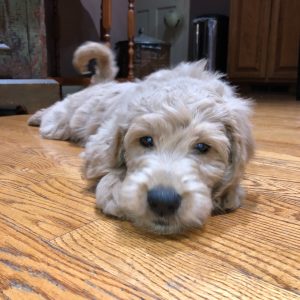 We bought this gorgeous boy from Norman Miller. Previously named Calvin, he learned his new name quickly and is incredibly smart. He's a full size Goldendoodle and is growing very quick. He's super smart, fun, sweet, and if you can't tell by his picture, he's absolutely gorgeous. We drove about 5 hours to get him and it was totally worth it. He's perfect and fits right in with the family.

Jill K.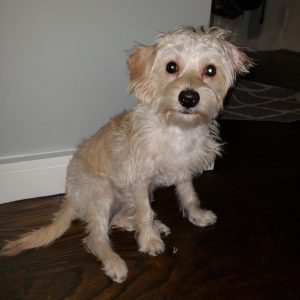 I got Wesley from Ella and Tim Zimmerman in Mifflinburg pa. I can not express how amazing my experience has been with them. Getting Wesley the Zimmerman's made sure that all the puppies are up-to-date on their vaccines. They set me up with all the records, the food he was eating at the time and a blanket that had his moms sent on it. It has been 6 months since I've got him and he is a perfect puppy. No health issues and very well behaved. He gets along with my 3 cats and is great with kids. He was extremely easy to train. We started at 9 weeks and everything has stuck. Wesley is used as my emotional support animal and is great in loud setting. I honestly couldn't ask for a better puppy and experience.

Jessica Brunelli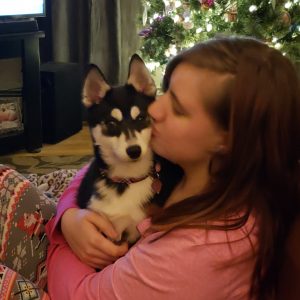 We were heartbroken when our 13 yr old Izzy passed. A friend suggested Greenfield puppies and we were surprised at the variety of fur babies on the site. Carley (now Lexy) a pomsky, popped up and we fell in love with her precious little face! The breeders, John and Dorcus Schlabach from Millersburg, Ohio were so warm and kind. The puppy was very well taken care of and already knew sit and stay. She was an angel with my grandchildren from the first day. We've had her 2 months now and I couldn't ask for a better baby to heal my heart. Smart, loving, cuddly and playful. I would recommend Greenfield and the Schlabach family if you are looking for a pomskey!

Kathy Seefried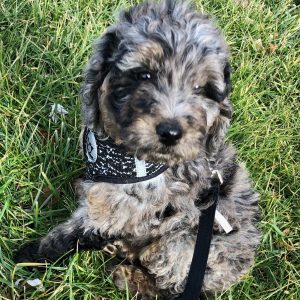 We were heartbroken when Mardi's 10 year old cockapoo died unexpectedly just before Christmas. We started looking for puppies online and found Greenfield Puppies. We had our concerns since we we not familiar with them but did as much research as much as we could and reserved a blue merle mini goldendoodle with David and Linda Blank. We flew from Arizona to the East Coast to visit our daughter for Christmas and then drove to Pennsylvania to meet the puppy and the Blanks. Since we have personally raised several litters of labradoodles we asked lots of questions and were impressed by the cleanliness of their farm and the quality of the dogs. Linda answered all of our questions and we felt confident we had made the right choice when we left with Riesen. On our return to Arizona our veterinarian assured us we had a great little puppy in perfect health. We would highly recommend a puppy from David and Linda Blank in Kinzers, PA.

Dirk & Mardi Ellis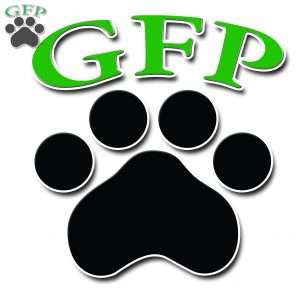 Amazing experience with Stephen Stoltzfus Jr. for our mini labradoodle Royce! Stephen was incredibly wonderful to work with in terms of constant communication, follow up, and giving our family an hour of his time teaching us so much about our new pup. I cannot thank him enough for a fantastic job socializing and raising our little pup and I would highly recommend him!

Stephen Stoltzfus Jr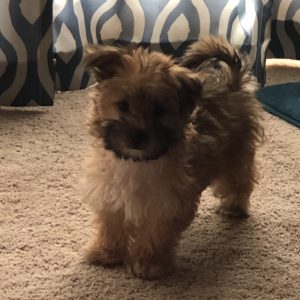 We picked up Tilly Sue, now her name is Livy on December 7, 2018 from Martha Stoltzfus in Gordonville Pa. Livy is perfect! We are so happy with her. I would definitely go back to Martha to get another puppy . The place was beautiful the dogs were very happy and very very well cared for. Martha was so nice to us from the minute I called about Livy. She asked if I would send pics of Livy and I did for Christmas. She was thankful that I sent them. We are so happy with Livy and she fits right in her new forever home. She gets along with the other dogs we have very good. Definitely would recommend Martha to anyone who wants a puppy .

Kim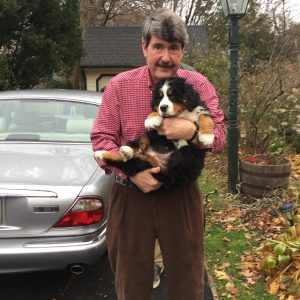 We got our precious baby Berner whom we named Tucker from John Jay King, an organic dairy farmer in Narvon, PA on November 12 – it was love at first sight! He weighed 17 lbs at 8 weeks, and 40 lbs at 15 weeks! It's such a delight to watch him grow! He has a sweet, calm temperament, with plenty of spunk. He was clearly loved and well cared for in his first few weeks of life. We have had Bernese mountain dogs as companions for many many years, and know the breed well. We consider ourselves so blessed to have found Tucker, and highly recommend John King and his family as Berner breeders.

Patty and Jeff Jensen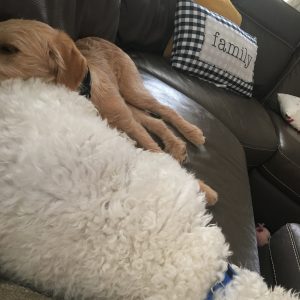 We bought Dexter (previously Flynn) as a Christmas morning surprise! Well Dexter has been the most amazing little puppy. Gets along great with our other 2 dogs. Warmed up to our family and fits in perfect Lapp family did an amazing job.

Brenda Meyers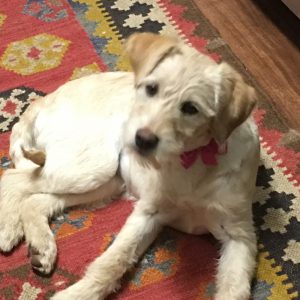 I got my puppy December 27. She was exactly as described. She is cute and funny and immediately become part of my family. Three days and housebroken. Joe Lapp has done a terrific job of breeding and nurturing the puppies. They are calm, quiet and lovable. I couldn't be more in love.

Patricia Bereson
I picked up Blossom (a Yorkipoo) in Pennsylvania a few days before Christmas. She is amazing. The breeder, Benuel Stoltzfus from Honey Brook is very honest and treats his puppies very well. Blossom is such a sweet puppy and is already part of the family.

Jim
I received my bichpoo puppy (AJ) from Stephen Stoltzfoos in December 2018. Steven and his wife were so welcoming and accommodating. Stephen is a very knowledgeable breeder and helped me choose the perfect puppy for my mom and me. AJ has had his first vet visit since acquiring him, and the vet said he is in great health. We couldn't be happier with our little boy and are so grateful to Stephen and his wife for their care of AJ. I highly recommend Stephen Stoltzfoos and his wife if you're interested in getting a puppy!

Amy
We adopted Samone after our mixed breed dog Zeus died. We were very nervous. WE love our new puppy and he is growing by leaps and bounds. Everything went well while we adopted through Greenfield Puppies.

Sharon A. Thomas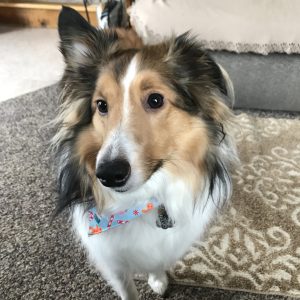 I received my puppy from Omar King in May of 2017. At first he was said to have a heart murmur and we took him anyway. Omar was very accommodating and said if anything went wrong with him he would do something to help. Now almost two years later Jasper is the best thing to happen to my family and is free of a heart murmur.

Heather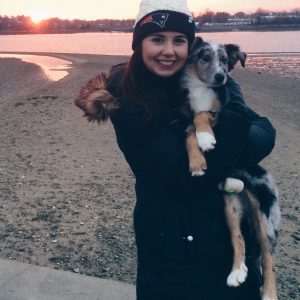 Having always adopted puppies from local litters I was a bit weary about purchasing a dog this way bud I knew I wanted a mini Aussie and fell in love with "Cedric" on Greenfield Pups. Chris King was amazing to work with and made the process so easy, Chris was so responsive and helped with all my questions and concerns. Malcolm made his way to Boston from PA via plane and has been the best dog since he arrived. He's the sweetest most socialized puppy I've ever had and I'm in awe at how well behaved and intelligent he is at just sixteen weeks (and three days here in his new home). Thank you so much to greenfield puppies and to Chris King.

Kaitlyn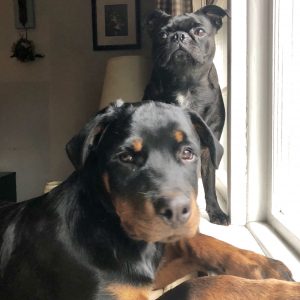 We got Jax (Rottie) three months ago from Chris Fisher and he was the perfect addition to our family. We got his sister Pebbles (Bugg) two years ago through Greenfield too. They are the sweetest dogs.

Kristen
My puppy buying experience has been absolutely Amazing. Mr. Gideon Riehl was so accommodating and very understanding. As a first time dog owner and a military member, Mr. Riehl held Biscuit (my dog) for two months for me while I was in the process of moving from Washington to Virginia. Biscuit has brought so much joy to my life. I thank Mr. Riehl and Greenfield Puppies so much. I would definitely add another four legged family member to my family using these services again.

Samara Chapman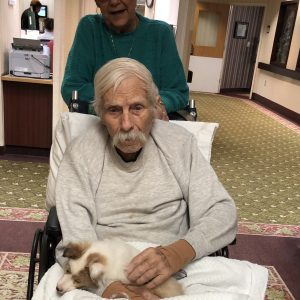 I brought my dog Ella from Chris Stoltzfus She is the best dog ever I take her to a nursing home every day and she sits on the patient's labs she's very very loving and she is very smart she is learning very quick and she became a part of our family instantly thank you so much Chris I love her!

Alyce
We just added a new member to our family!!!
Thanks to Elmer Zook and his lovely family we have the male bichon we have dreamed about for years. Elmer was very helpful, knowledgeable and patient with my boyfriend and I which made the decision of purchasing a puppy there a no-brainer.

If you are looking for a pleasant experience and a good dog I highly recommend Elmer we just adore our loving puppy. Thank you so much!!!!!!!!!!

Samantha & Sean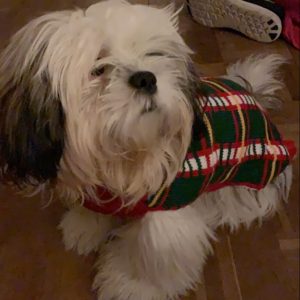 I've been trying to convince my mom to buy a Shih Tzu puppy after we lost our 10 year old Shih Tzu 8 years ago. After trying to find puppies everywhere and almost getting scammed we finally looked on greenfield puppies. Honestly one the best websites to buy a puppy and very helpful. 10/10 would recommend. We got Tito in September and he's been the best every since. Hes very healthy and the sweetest puppy ever.

Emily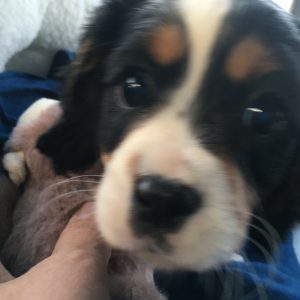 We picked up Keyra (formerly Hallelujah) from Elmer Fisher in Gordonville, PA. This dog is WONDERFUL! Picked up potty training quickly, wants to please, readily wants to learn. Vet check said healthy well cared for pup! I recommend the other puppies from this litter, great mix!

Elizabeth Carpenter