Greenfield Puppies Reviews
We love dogs and people and people with dogs.
I was looking for a Maltipoo for quite a long time. I noticed Lizzy King's Puppies and how beautiful they are. I called her and she did not have a Maltipoo available but told me that she had a liter and the pups will be available in March. I also wanted a female. Lizzy informed me that she had 3 females. I desperately wanted to see the pups and she went above and beyond and sent me a pic of the pups. I told her which one I wanted and she kept it for me. When I picked up my little girl I was so happy and excited and instantly loved this pup. I also noticed Lizzy interaction with the pups and the mother and I thought to myself that she was a loving and caring person and loved her puppies . I am very happy with my Bella and highly recommend Lizzy as your breeder. I have taken friends to Lizzy to get their pups and I have not heard anything negative. Lizzy is a great breeder and I trust her. I call her and ask her questions about caring for my Bella and she always takes the time to talk to me and if she can help with anything she does. The relationship does not end when you pick up your pup, it continues and she loves hearing about how the pups are doing. My Bella is 2 years and I am always on touch with Lizzy. Thank you Lizzy King.

Sherry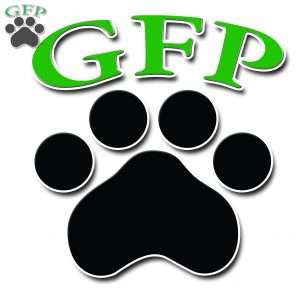 My family and i got Baxter back in September of 2018. He has been an absolute delight and a sweetheart. We live in an apt. in NYC so we had training pads laid out all over for him, preparing ourselves for a long battle with the potty training but to our delight, he almost instantly started going on the pads. There were a few accidents here and there but within a week he was just going on the pads. He was fully potty trained. Baxter's energy level is through the roof. He absolutely goes from 0-100 in no time, he's a furry ball of energy who absolutely demands attention. For families looking for hypoallergenic dogs, I can only speak of our experience thus far. There is minimal to no shedding. When his fur is left to grow out, then there is very mild shedding but nothing much. Our experience with getting a dog from Greenfield has been positive . Baxter was healthy from the start and to this day we haven't had any health issues with him. He's a very alert dog and just a wonderful addition to our family. I would totally recommend this breed to anyone looking to get a dog that is loving, kid friendly ( i have two daughters, 16 and 9 yrs old), and extremely active.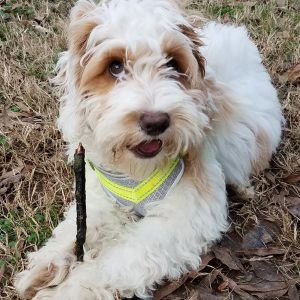 I got "Liam" in December 2018 from Mary Smucker in Quarryville, PA. After my cocker spaniel rescue "Flynn" passed away last March, I was heartbroken – he was my best friend and had such an easygoing personality. I waited until I was ready to open my heart again. I missed being part of the dog owner community – it's a great way to make friends and to get out and explore the world around you. Having done my research, I decided a cockapoo was the best fit. I wanted a dog that by nature was most likely to be people-social and dog-social, less than 40 lbs but not teacup, smart (but not smarter than me!), with a look similar to a cocker spaniel (but more likely to be kind and tolerant) and physically healthy. I found GFP's site and loved the amount of detail and especially the videos to get a glimpse of each puppy's personality. I watched many, but Liam's was by far my favorite. It cracked me up as he lightly tussled with his sister to get a stuffed animal, gave way to let her have it while he curiously explored the yard, and then skipped over to nab it away so she'd chase him 🙂 I called Mary and she patiently answered my many questions and then confided, "Liam is my favorite". My mom and I drove up 8 hours from NC. I told her, I hoped to pick a puppy who'd choose me back. She said that might not be realistic. When we went to Mary's farm, she and her daughters invited me into their home to meet Liam. I sat on the floor and Liam crawled into my lap straight away and made himself at home as if to say, "Yep, she's mine". It was love at first sight. Mary's little girls gathered close to pet and play with Liam. I was impressed by how gentle he was with them. We saw his mom (a beautiful buff cocker), sister, and Havapoo puppies who had a warm covered enclosed outdoor shelter with open air pen. They seemed happy and healthy. Mary agreed to let us pick up Liam the next day so we could explore the area having never visited before, which was really nice. When we came back, she gave me a GFP folder with his vaccination records (all up to date), a 6-month health guarantee, a baggie of kibble and his favorite stuffed animal which smelled like his mom. Liam has proven to be a perfect fit for me. He's healthy, 16 lbs, smart, curious, and hilarious. He learns quickly and was no trouble to housetrain. He's very affectionate, frequently giving me hugs and kisses and likes to curl up on the couch with me. He's been quick to socialize with a wide variety of people (he's very much a ladies man) and makes doggie friends everywhere we go. I love his handlebar mustache and poodle coat. He's also a big fan of long walks, hikes and loves to explore. I'm so grateful to Mary and GFP for helping me find such a wonderful new friend.

Lara Eller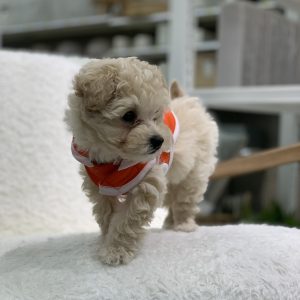 I've always wanted a little fur daughter but I always ended up with fur sons. I did extensive research and came across GFP where I was able to make sure my future puppy was coming from a sweet loving home, not a pet store (aka puppy jail). I was lucky enough to come across ROSE; now re-named PENNY. Sarah Fisher was the breeder whom I got Penny from. Sarah was so sweet and helpful with my questions about Penny. I can't say thank you enough to Sarah for trusting me with Penny she's perfect, Now I have my fur daughter that I've always wanted.

Jennifer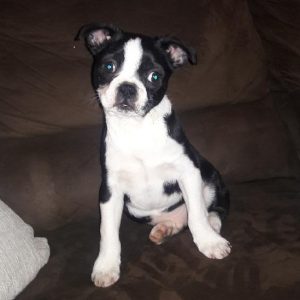 Bought my Boston terrier and WOW . Smartest dog I've ever seen in my life. Day 4 and not one accident in the house. I can not get over how smart this dog is . The little guy loves people and is well behaved . Sleeps the entire night on his little bed and already listens to commands . Unbelievable. Thank you.

Jeff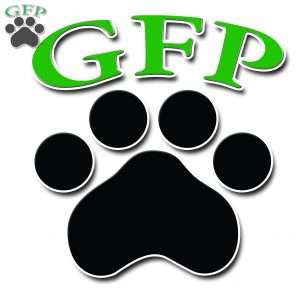 We shared our life with Pantoute, a Catalan Sheepdog, for 13 years and among all the very good dogs we had in our life, he was the one we preferred. Smart, peaceful, we always had the feeling « there was someone inside » this lovable dog. We now have a new dog, a Catalan Sheepdog puppy bought from an excellent breeder and human being, John Lorino (Smallwood NY), a few weeks ago and we are so happy to realize the magic is still there. Rose, it's her name, makes each day of our life happier. Everything good you heard about the Catalan Sheepdog is true and after all these years spent with Pantoute and now with Rose, we haven't found them any significant flaw. Catalan Sheepdog is a faithful companion and is very good with children.

Pierre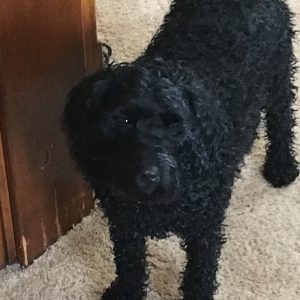 My husband and I bought our lovely Cockapoo three years ago. She is such a sweet dog and has brought us great joy. She has had a few medical problems and is going to be tested for Cushing disease this week. Her original owner was a wonderful man and a pleasure to deal with.

Billie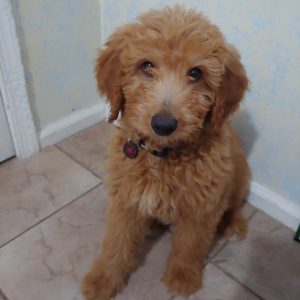 My husband and I bought our Goldendoodle a, few weeks ago. Matthew Beiler was the breeder. Our vet said, PERFECT GOLDENDOODLE! Bear is intelligent and loving. We couldn't be happier. Thank You Greenfield!!

Dom and Colleen DiStefano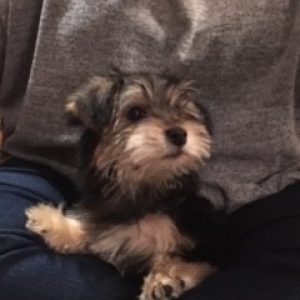 We were searching for a male Morkie close to home and discovered breeder Lena Aucker. We couldn't be more happy with our little "Jake" now named Cooper. He is such a joy and very smart. Lena is great. The puppies are definitely well cared for and loved. I would highly recommend Lena to anyone looking for a puppy.

Patty & Carl Gaskins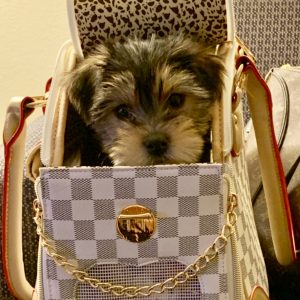 I have been searching for my puppy for over a year, when I remembered Greenfield Puppies. I searched and in that I found Lena Aucker in PA who had "Jackie". She was my dream come true. I called Lena who was an absolute sweetheart, from that moment until my precious now named "Mia" home it's been a complete blessing. Lena & her husband were so helpful & had everything prepared for Mia's departure to her new home. Mia is a happy, healthy, funny and completely energetic love ❤️. She has brought me so much joy and happiness. Thank you Lena for all your help and for allowing me to be a mommy to my precious jewel Mia?. She sends you kisses ?

Gloria Rodriguez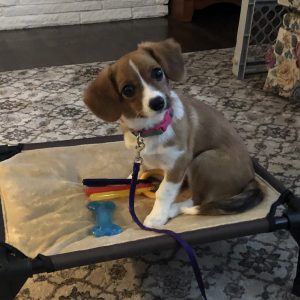 We saw "Lucy's" picture on Greenfield Puppies and just fell in love with her. She is a King Charles Cavalier/Corgi mix. She was born on June 20, 2018 and we set up an appointment to meet her on September 26. The sellers were Dave and Emanuel Blank from Gap, Pa. When we arrived we were met by a young lady who was very friendly and walked us over to meet Lucy.. She was in a gated area with her Corgi Mom who came over to check us out. Then we picked up Lucy and held her as did our granddaughter and we fell in love with her. She looked happy, healthy and wanted to run and play. She was very clean and seemed well cared for. They did tell us that she lived in the barn area and from what we could see was also clean and taken care of. We decided we wanted her, so we chatted awhile, paid for her and it was time to leave. The young lady wanted to make sure we had something safe for her to travel in and we did bring a new carrier along.. We said our goodbyes and we were on our way.. We told the young lady we were changing her name to "Sadie" and she was pleased because she said that was an Amish name. They gave us a folder with her shot records in, the name of the vet, etc., and said if we needed anything further to just call. We took Sadie to our vet two weeks later and he checked her out well and said she seemed very healthy and happy. We did get a call a few days later that she had an infection, was put on an antibiotic and has been fine since.. Overall we had a great experience and love our Sadie to pieces. She is very active, playful, just loves all my grandchildren ages 2 and up and is giving us all so much joy! We are very happy with our dog. Thank you Greenfield Puppies

Barbara and Tom Brickler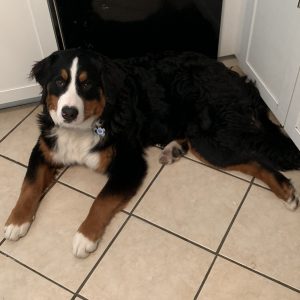 I fell in love with my pups picture . I adopted my Berner Heath from Christ Miller. Heath was a little older than most pups but I needed that for my family. Due to size he was to big to fly. Neil was awesome on avenues we could pursue to get Heath here. He also offered to get a different pup, but my heart was set on Heath. He is such a joy. Well socialized, sweet natured and has not met an enemy . I couldn't be happier with the breeder and greenfield puppies. This is the first time I have purchased a full breed dog, so this was a big decision for me. I have no regrets on getting Heath. I highly recommend the breeder and greenfield puppies

Coleen Manley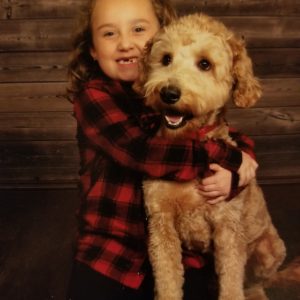 We purchased our Goldendoodle puppy from Mr. Omar Lapp in December of 2017. Since she was going to be a surprise Christmas gift, Mr. Lapp agreed to hold her for an additional couple weeks. It was definitely a Christmas to remember! We can't thank Mr. Lapp and his family enough! We would definitely recommend this breeder if you are interested in purchasing a Goldendoodle.

Joe Ernst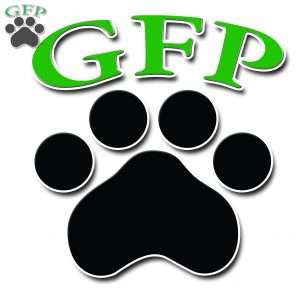 My family and I have recently bought a cockapoo from Greenfield Puppies. We are pleased to say that this has been one of the best decisions we have ever made. We bought our dog from John, who was a cooperative seller and definitely made the process of buying a puppy a much easier one. Also a special thank you to Greenfield Puppies who helped make the shipping process easy as well. My cockapoo, Collin, is a well-behaved attention loving puppy. So far, he has been the most obedient dog we bought. He doesn't bark very much and he doesn't cause any trouble. For all of you who are contemplating on whether to buy a dog from here, think no more. This is the place to buy a dog. 10/10 recommended.

Sarah Fernandez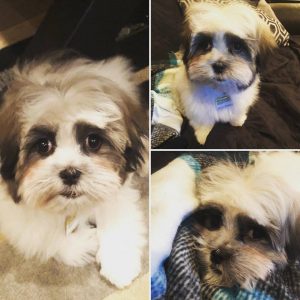 We received our Asher from Rebecca Lapp. Not only was she and her family very nice and professional, but also clearly great care takers of their puppies and parent dogs. They had all the paperwork for us and were very cooperative with payment and time to meet. Rebecca allowed us to come to her home and play with Asher before we took him. We had a great experience.

Asher is a pleasant, well adjusted, friendly, and playful puppy! We love him to pieces. Have had him home for three weeks and are so lucky for all the weeks and years to come!

Thank you Greenfield puppies!

Erin Kelly and Jake Albert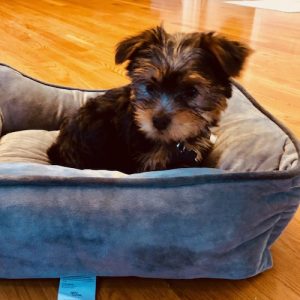 We purchased a Yorkie from Lillian Stoltzfus in Gap, PA. She was incredibly warm and provided us with many details of Coco's habits, nutrition and gave us advice as we are new puppy owners. Subsequently, she also called over the course of a couple of weeks to update us on his condition and respond to requests we had for purchasing things to make him comfortable. Our family of four drove all the way to Pennsylvania to pick him up and we met the Stoltzfus family. We are grateful to have Coco in our home. After a period of adjustment, he integrated himself into the family. He is funny, happy and adorable. He now knows many tricks and follows us around all the time. He is even tempered and has lots of energy for our kids but, also likes to hang out by the tv with us all sitting on our lap or on his favorite cushion.

Rosanna M. Batista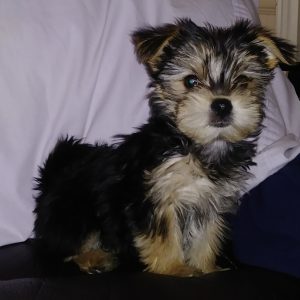 For my birthday, we drove to Pennsylvania to get my birthday present! We got a Morkie from breeder Phares and Lena Auker. They were extremely nice and informative about their dogs. Our Jackie (then) now Tazzy was well cared for and a happy puppy. She is such a joy to have and is so full of energy and has adjusted very nicely to her new environment. I would recommend this breeder if you are ever looking for a Morkie.

Susan & Joe F.
A little before Christmas I lost my beloved Dog JJ of 13 yrs. and was heart broken. So after Christmas my husband began to search for a new puppy for me which lead us to Mr. Steve Stoltzfus and his kind wife. I can't thank them enough for the joy of little Ricky (who we now call AJ). He warms my heart everyday, he was already partly house trained and is just a joy to be with. He was just what I needed. He and I bonded at once. He loves his new home and loves my grandkids. Thanks so much.

Lori High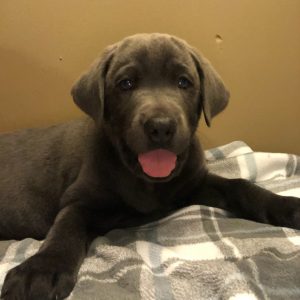 We drove to Pennsylvania to pick up our new addition to the family ! A charcoal Labrador from breeder Michael Stoltzfus. We couldn't be any happier. Our pup was well cared for, he is healthy, bright and so smart. So happy we found our breeder through Greenfield puppies. Thank you.

Joey P.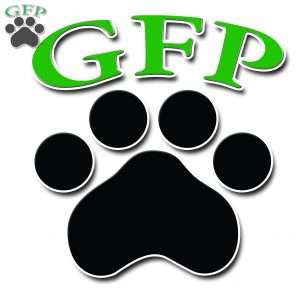 Just bought Yorkie-Poo puppy from Karen in Ephrata….this puppy is the absolute smartest and best looking dog we ever had.
My wife and I were so pleased with the operation Karen had @ the farm….. I would recommend anyone interested in a puppy to point themselves in that direction.
Also wanted to thank Greenfield Puppies for putting us in touch with this breeder, this was an absolute perfect experience.
Thank You
Steve and Dawn

Steven Kann
We bought a black lab a year ago, and I have bad many dog's in my time, and I would like to tell you, my dog Diamond is probably the best dog I have ever had, I have seen blogs putting down Amish breeders, and all I can say is that is all lies and miss guided propaganda! I have always had great experiences with the Amish,and I believe we should give respect where respect is due!
My dog has no health issues, temperament is perfect, and she is very obedient, and loving, and she is a great hunter!

Martin K.
The breeder was very nice and professional and we found a new addition to our home. Our puppy Bella (a Shih Tzu, Maltese and Bichon mix) is very sweet and very very smart.

Take the ride and get a friend and companion who will brighten your days

Christine Daley
Although it was a long ride for us the people that were there Dave was very pleasant and the family was wonderful we are enjoying our lovely little puppy we now call him Roscoe and he is very healthy if it wasn't for him we wouldn't have them thank you Dave. We are enjoying our little boy boxer Brindell. From PA Gratz. Love him!

Cindy Pacheco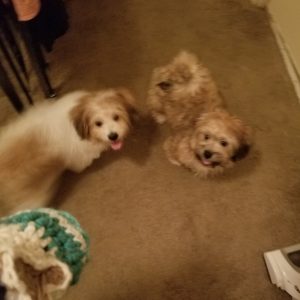 I have two Shih Tzu Bichon mixed puppies. They are so funny and they act just like kids. They are 6 months now and this is the best decision I made. My partner and I was skeptical about where and who we were getting our babies from. Lilian made sure that we were taken care of and updated every step of the way. Cotton has anxiety and she assured me that he would come around. She checked on him every few days to make sure that we were all ok . She even stayed in contact after their doctors check up. I loved how professional and honest this process has been. You are alright in my book Greenfield.

Nicole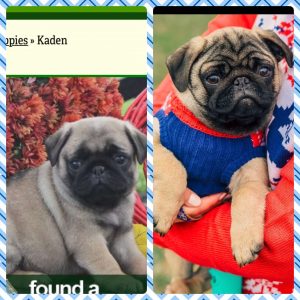 Mochi, formerly known as Kayden is now four months old. We got him at 12 weeks and he has been the best puppy anyone could ask for. He is very smart and already knows how to sit, give high five, and play dead. He puts a smile on everyone's face when they see him.

James