Greenfield Puppies Reviews
We love dogs and people and people with dogs.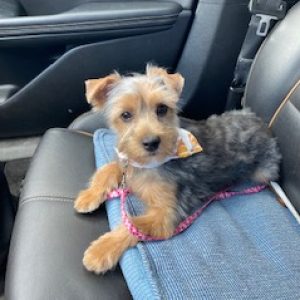 I bought my yorkshire Terrier a month ago. When I picked her up she looked a little different around the face. I asked if she was pure bread and was told yes.( I had never had this breed before) she was unkept and a little dirty, and was in the barn, so I thought that is what it was. and She is totally PETRIFIED of all men (that gave me a great concern that a 14 week old puppy was so afraid of men) ! I took her to my groomers, and she looked at me and said that is no yorkie! She was actually grooming a yorkie at the time and showed her to me. NO I do not have a yorkie! I have a terrier but not a yorkie! She said that I have a silky terrier instead! I am not going to do anything about it, we love her. But I got her in sprakers ny from the Esh family. So beware !! I am glad I got her out of there but am angry that they scammed me! apparently greenfield dont monitor their puppies or breeders

Tammy Perkins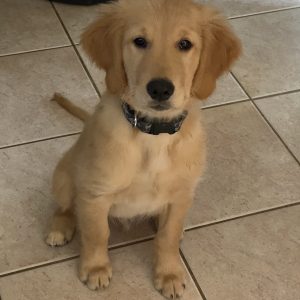 We bought this little fellow at 11 weeks old. He's an extremely healthy, beautiful and playful pup. I also bought one for my parents the same day! Yes, 2 pups on a 5 hour drive 🙂 This was a very smooth transaction thanks to the breeder, Mel and Lydiann. We couldn't love our puppies more than we do now! If your thinking about buying from Greenfield Puppies I highly recommend it! Thanks so much Mel Stoltzfus – we love our pups .

Rob & Lor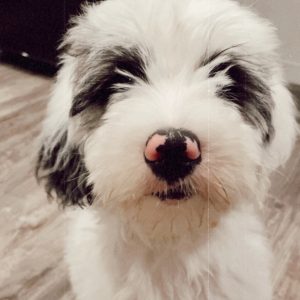 Hi Greenfield Puppies,

I am writing to express my gratitude for Emanuel Glick. My husband and I fell in love with a Sheepadoodle on your website. We got in contact with Emanuel to come see the dog, as well as see the home where she was raised. We wanted to make sure our soon to be dog was raised right, well taken care of, etc.

Let me tell you…. what a warm family and home! Emanuel, his wife, and his son (1 year old) greeted us immediately with open arms. They knew we weren't ready to take her home with us that day so we set up a time a week later to come back. They answered any and all questions we had.

When we chose which puppy we wanted to take home- they informed us she had a heart mur mur and they were more than happy to take her to the vet before handing her over. When they did, she was cleared of the mur mur!

I cannot say enough great things about Emanuel and his family. I keep wanting to find homes for our little girl's siblings!!

Thank you again Emanuel- we love her!!

Carly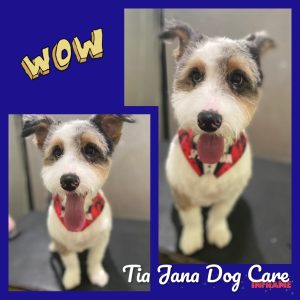 My puppy is now almost ten months old. We love him. He is a handful, but he makes us laugh. Bentley is a great family member. I would like to thank Mr. Levi Smucker and his wife for opening their doors and able to meet (Scout)

Jaci Munoz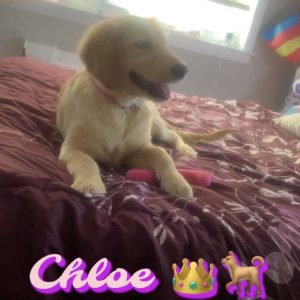 I was so happy to find Cleo the now is Chloe she such a great puppy every thing I ask for she is amazing 🤩 perfect for my daughter and for my family and so thank full for the breeder Michael king who was amazing from the beginning and very professional when it come to the dog we are just blessed to be able to find people like that

Raidilys kranwinkel
5 month follow up – Gio is doing great!! He is such a happy, playful, smart and healthy little guy. We could not be happier and our so thankful to both the breeder and GFP for bringing us together. As you can see he quickly outgrew his bed we used to transport him home.

Glenn O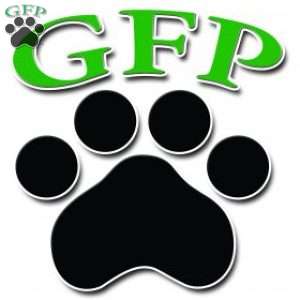 Got Zola, now Lucy form Anita Troyer and Ed Miller, she is such a love!!! So sweet, and has just fit right in to my family! Very loving, shes now 11 weeks and weighs less then 7 lbs. I was scammed before and Anita was so sweet and worked with me throught the process. Great breeder, great experience

Nancy Tullis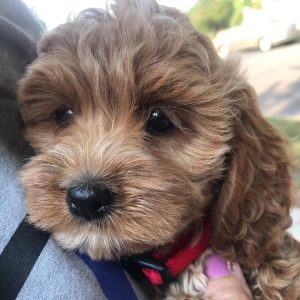 Great experience getting cockapoo puppy from Elam & Fannie Stoltzfus. They were lovely people and it was the cleanest property I have ever seen. And beautiful too. When I called to inquire Fannie answered all my questions. Good experience.

Judith Ferlise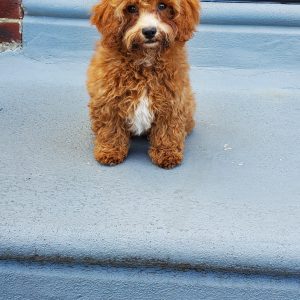 We adopt Muffin August 13, 2022 from Rachael & Sam from Lancaster Pa very nice people. Muffin been a joy to our family. She just follows me all the time. Muffin is so use to her new home. Greenfieldpuppies.com is the best place to get any puppy. I will always keep them in mine. The transaction was so great. I kept in touch with Rachael until we pick up Muffin. Great people!

Kelly & John Huggins

Kelly & John Huggins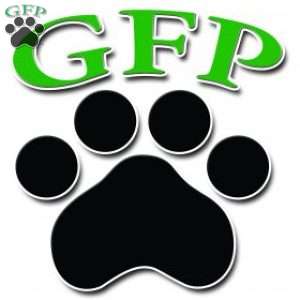 We adopt Muffin August 13, 2022 from Rachael & Sam from Lancaster Pa very nice people. Muffin been a joy to our family. She just follows me all the time. Muffin is so use to her new home. Greenfieldpuppies.com is the best place to get any puppy. I will always keep them in mine. The transaction was so great. I kept in touch with Rachael until we pick up Muffin. Great people!

Kelly & John Huggins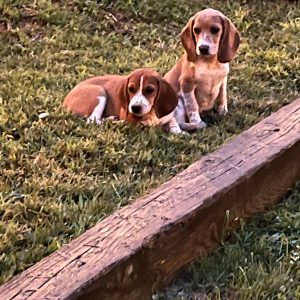 We adopted Hayden and Harper from William and Arlene Beachy in Dover, Delaware. The Beachy's are very nice people and we are so lucky to have found them.
We had two beagles dogs that were 14 years old which recently passed away. Ginger was 14 and passed away in December 2021 and Max was 14 as well and passed away in July. They both had congestive heart failure and lived exceptional lives. We loved them very much.

We adopted Hayden and Harper, two little girls who were born on June 6, 2022. While they will never take the place of Ginger and Max, our hearts are full again. Thank you so much too the Beachy's. We are so in love with the girls and take special care of them.

Anthony and Susan Crews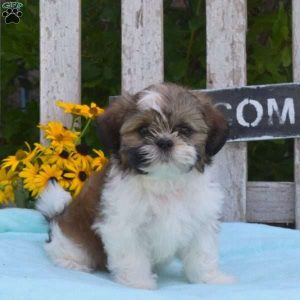 We got our Shih Tzu puppy from Leah Stoltzfus in Gordonsville PA. We named him Grady (Formally Lexus) Leah answered all of our questions and provided us with shipping options, We used Furry Trails and they did a fantastic job in getting our puppy delivered to our door after a 2300 mile journey. Leah had also begun potty training this litter of puppies and Grady has been in our home for 1 week and has only had 1 slight accident. Thank you Leah! you have brought beautiful puppies into this world and the love, affection and training you have given them is evident.

Daniel & Ellen O'Brien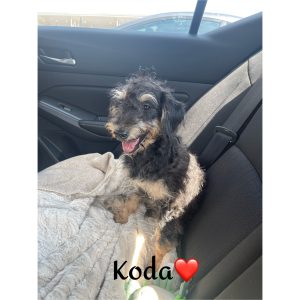 I got my aussiedoodle, blue heeler, poodle mix Winston now Koda from Leroy & Fannie Stoltzfus and can I say in the 48 hours I got him does he have a personality , he is settling in amazing and just the brightest pup ever , they had a beautiful from and made me feel so welcomed and answered any questions I had and even sent me home with food ! Thank you so much for sending me off with this amazing pup he's got the best forever home ever ! Thank you for blessing me with my bestfriend I don't know what I do without my cuddle buddy.

Kayla Morales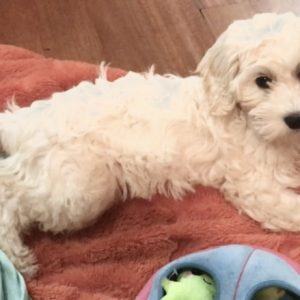 We got our puppy from Elam and Verna King. Elam was very friendly and it was obvious that his is a dog-loving family. The puppies were happily bounding around a section of the yard on their farm, occasionally being scooped up gently by Elam's young daughter. We've had "Chloe" a month and she is an absolute delight. Super-affectionate and playful, and highly entertaining! We are very pleased with our experience with GFP and Elam.

Jamie Henzy
I picked my charcoal lab puppy up today from the airport and I was truly disappointed with how greenfield shipped my puppy. First off I was told he was passed out when they took him off the plane because the plane they put him on had no AC. Second they said he would have a comfy pad in his crate, there wasn't, the only thing in there was ripped up newspaper!! The third thing was the "food and water bowl" that's provided. It was dirty, about 3 inches in diameter and had nothing in it. I love my puppy already but I am very disappointed and upset with greenfield shipping, especially because of how expensive they are. I definitely will not be doing business with them ever again or give them as a reference to anyone!!

Colin Prago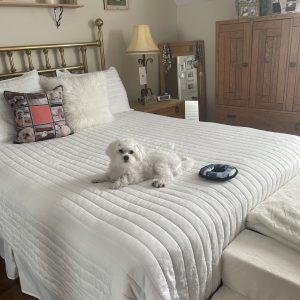 Sami aka Chipper, he is 1 yr 1 month old and a fun loving Maltese. He is such a good boy and loves to play ball. He's 10 lbs of love. Very healthy puppy. We got him from Barbie Beiler and couldn't be happier, everything went smoothly purchasing him, And the night that he arrived she called to make sure everything went well, she sent him extra food and all the paperwork. Any questions we had she answered and that I could contact her at anytime.

Maria Pagano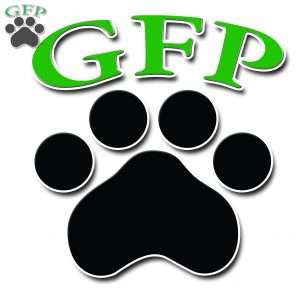 Received our adorable 11-week old tri-colored Miniature Australian Shepherd from Sylvan & Barb Stolzfus (Barbie's Puppies LLC) of Narvon, PA . Piper, formerly Serena, is the sweetest puppy and extremely smart. We've had her for a week and she's already learning to consistently potty outside. She has also learned the "sit" and "stay" commands! She loves her crate, and sleeps there willingly for naps and at night for about 6 hours. Sylvan was up front about a very common female puppy issue, and our vet agreed with what Sylvan said – that it's likely to resolve itself and is not concerning. Vet gave Piper a clean bill of health and stated "She's perfect!" We couldn't agree more!

Jamie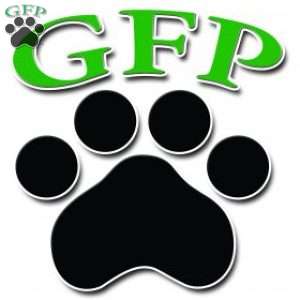 We have two dogs but one is 9 and can't keep up with our 2 yr old Blue Heeler, Cooper, so we wanted another Blue Heeler. Juliette (formerly Sugar) was in Strasburg, PA. We fell in love with her instantly. Her breeder, Samuel Smucker was kind, caring, and informative. I like that we got to visit her home and meet her Mom. This process was so easy. I'm disappointed we didn't know about greenfield puppies before! Juliette is a great puppy. She's picking up potty training fast and she is very smart. She already knows "sit" and "come." She has a great disposition and enjoys meeting people. I would definitely use this site to find another dog.

Angela & Bill Hagerty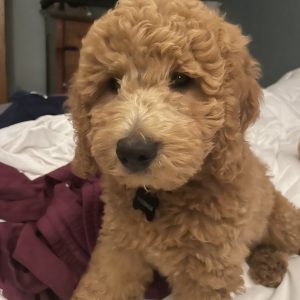 I purchased the most lovable miniature golden doodle at 11 weeks old. He was a great price and sour the long car ride. So happy with my new puppy!! The seller and family was very friendly and helpful with this purchase. Couldn't be more pleased !

Kara Mitch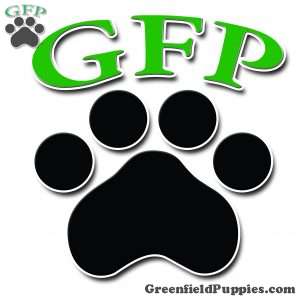 Unbelievable! I purchased a shelty 1 yr ago. From Katie and Jim Riehl in Honeybrook PA. She just had her first litter of puppies. 2 look like her and the other 2 like her. They are healthy nice size and nursing. Beauty is a service dog never had 1 health issue. She loves other dogs and I just got a kitten who she loves ❤️. She is excellent with children especially special needs. She will give you lots of kisses and if you ask her for them she does it. If you tell her to go to bed she does. Just like the video she follows me everywhere. If you are looking for a puppy go to the riehls in honeybrook pa they are great breeders and I can't compliment them enough. Sweetest family and polite children. I already found 3 homes all friends who wanted her puppies. I am keeping her other one and I would love to call them in advance to show them Beauty and her puppy. As I said I would give them a thousand stars if I could.

Nancy Epps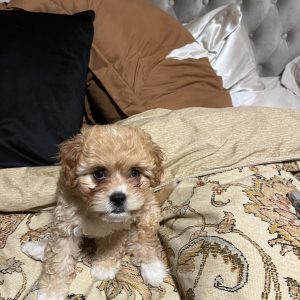 I corresponded with the breeder, Christian Stoltfuz, before getting the apricot/tan female puppy we brought home. She and her litter mates are being sold as miniature poodle mixes with a miniature poodle dam and Cavalier King Charles sire. I found the breeder to be ethical and responsive. The puppies have their shots and are very well socialized to be around children, as the family is large. The youngest, a 20-month-old, got in the puppies' faces during our visit, and they clearly were used to it and tolerant. We spent a fair bit of time on the beautiful farm and highly recommend these pups to anyone willing to consider a pup that won't have any cavapoo papers but seems to have inherited all of the desirable characteristics associated with the mix.

Kellyn Betts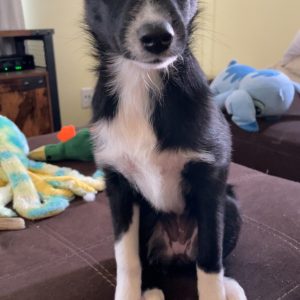 I was looking for a puppy for weeks when I came across this site. I looked everyday for the right puppy to catch my eye when I saw the siblings to my sweet sushi. I reached out and met the puppies that was left from the litter. The guy that I got my puppy from was great!! Super nice answered all my questions before and after I got my puppy! He let us play with them and let the right one pick us out. Sushi is a sweet, loving, playful puppy. She gets along with my cats kids and anyone she meets really.

Melissa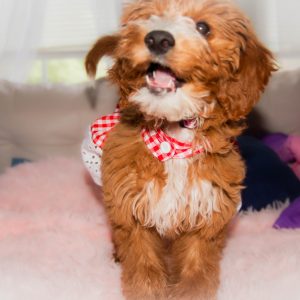 I purchased a mini Goldendoodle F1B from Ben and Naomi from Leola PA. I just want to say that she is absolutely the best dog, she is not only beautiful but very smart and obedient. She is kind and very loving towards the family and our friends which is very important.

Connie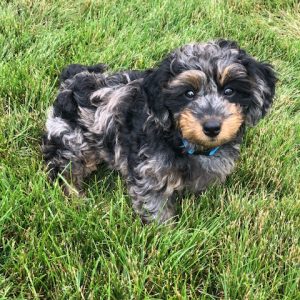 In May, we purchased a puppy from Henry Esh in Christiana, Pa. It was an extremely positive experience. It was clear that both Henry and his wife cared about the puppies, were knowledgeable about the breed and wanted to place the dogs in a good home. They were able to show me both the mother and father, which they owned, and I greatly appreciated being able to get a better feel for the size that the puppy would be upon maturity. Leo (formerly named Hunter on the website) was so well adjusted and happy. This is the third puppy I have purchased in my lifetime, and of my experiences, Leo has been the most ready to join his forever family! He was used to being handled by the Esh children and was comfortable both in the house and out in the grass. Henry also followed up with a phone call a few weeks after our purchase to make sure everything was going well with the puppy. I would highly recommend this breeder!

Carole S.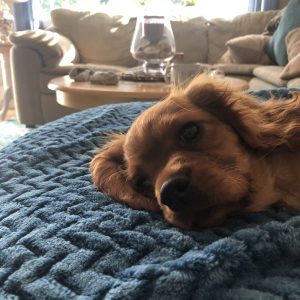 We are beyond in love with our King Charles Cavalier Spaniel. He is absolutely everything and more gorgeous healthy active puppy. I honestly cannot say enough about Aaron & Sarah Esh. They are very nice answers any questions. They take excellent care of their dogs and puppies. Also wants updates to watch to see how the puppy is growing in their new family. That's important how it's not just a money thing.

Anne Marie