Greenfield Puppies Reviews
We love dogs and people and people with dogs.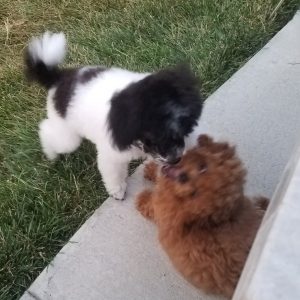 I purchased both of my puppies through Greenfield puppies: One from the Beilers (Riley – white and black) and the other from the Stoltzfus' (Ginger – Red). They are getting along just fine. Only 3 weeks difference in age. A joy to have!

Carole Robertson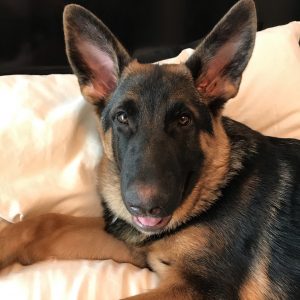 Zeus arrived with my son in 2/21 as he had been looking for a German Shepherd for some time. Well… this little guy arrived and he's is simply perfect in ever way. He was trained from day one!!!! I don't know if it's genetic or we simply got lucky… he's perfect in ever way. Zeus did arrive to two older dogs but has been a great companion for us all!!!! Thank you to the breeders for allowing us to have the " perfect puppy!"

Giulio and Linda Santorio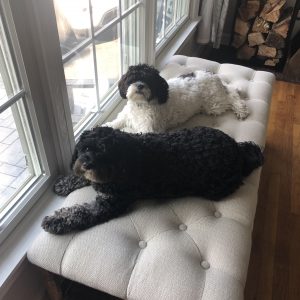 We purchased both of our Cavapoo's from Lillian and Marc Stoltzfus in Gap Pennsylvania. We couldn't have been happy with both babies. Lillian and Marc were wonderful to deal with and very accommodating. We highly recommend them and their puppies..

Lynn Grasso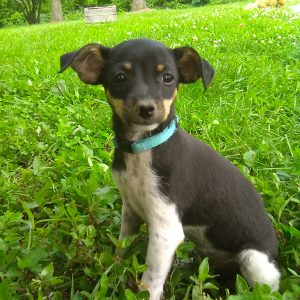 Greenfield worked hard to get our puppy to us in North Carolina. Puppy arrived on time. I recommend Greenfield wholeheartedly!

Harold Bumby
We recently purchased Rusty (Tucker) from Amanda Zook in Dornsife, Pa. Such a beautiful, intelligent, alert, and loving puppy. Such a cuddly sweetheart. Our Vet said he is very healthy and handsome. Even took his picture. We highly recommend Amanda Zook. Her Havapoo puppies are so wonderful and healthy!

Vicki Mason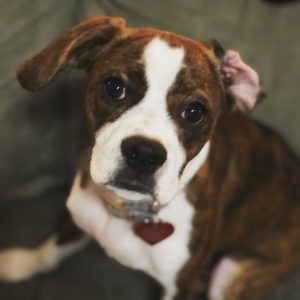 We absolutely love our new puppy! It was very evident that these puppies were loved from the beginning. Thank you Ruth for entrusting Pepper (Scamp) with our family

Tricia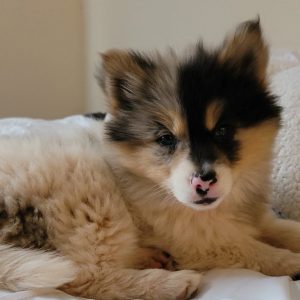 Nyla (aka Hudson) is the sweetest Pomsky! I love her so much and am so grateful to have found GFP, after long months of searching for the perfect baby I really feel like Nelson & Rosalyn Zimmerman helped me find a puppy who matches my personality so well. They are breeders located in East Earl, PA.

Gabrielle Concepcion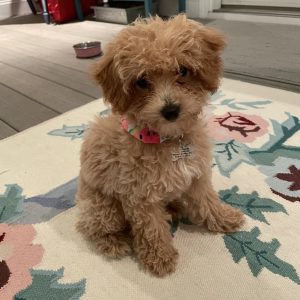 We got our Bichpoo puppy Shanrock from Amos Beiler and family in Ronks, PA. Whatever this family did to socialize and care for this puppy was beyond amazing. She is happy, calm and slept through the night the very first night she was in her new home. She was clearly loved from the get-go and Amos was more than accommodating with us. He even allowed us to pick her up a few weeks after she was available so that we could prepare for her arrival.
I cannot say enough good things about Amos and the experience we had with Greenfield Puppies. I highly recommend. Thank you for helping us to add such a fun little being to our family.

Victoria Lynch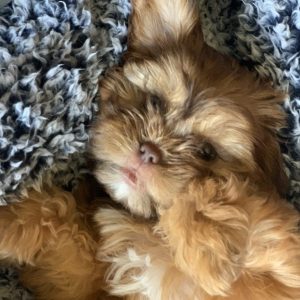 We purchased Sydney (formerly Kelly) from John and Anna Esh. They have a beautiful litter of shih-poo puppies that have been raised with their children and are well socialized. They were great providing us with everything we had asked for, coordinating with us, and making sure we had everything we needed to get our puppy home. Sydney is a happy healthy little girl that is doing great in her new home. She is doing well with potty training and starts puppy training classes soon. She is everything we were hoping for and more. There are still a few of her litter mates available, who are absolutely adorable. Get them while you can.

Julie and Ronda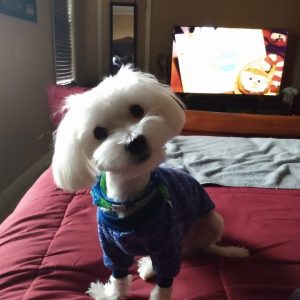 Our furry little bundle of joy is simply amazing. This little guy has tons of personality with the character to match. My little Snowball was and is a wonderful addition to the family. He gives each and every one of us unconditional love and affection. The way he looks at you will feel your heart with joy then melt your soul to pieces. I couldn't imagine my life and our home without him. As for Lucy Martin, you are hands down the best at what you do. Lucy was so caring, so professional, so Hands-Ons that she deserves not only the title, but the description none other than, Class act / A1 Breeder. She guides you through the entire experience holding your hand every step of the way easing the nerves of that anxious new mom to be.. Lucy made the arrival of my little guy easy and stress-free. She's always just a phone call away to answer any and all questions… You will never go wrong with Lucy W. Martin and Greenfield Puppies…

Sherita Tyler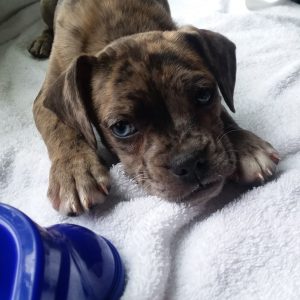 Finding a puppy was such a challenge. So many Scammers out there. We were blessed to find Greenfields. They were so helpful finding true puppies with good people. We found Sam Smucker in PA. We fell in love with Gemma a sweet French Bulldog/Pug mix. Sam Smucker was so kind and helpful. You could tell they had done much work and shown much love to the puppies. I celebrate such a wonderful family and there dedication to bring wonderful pups to loving homes.

Rose Fier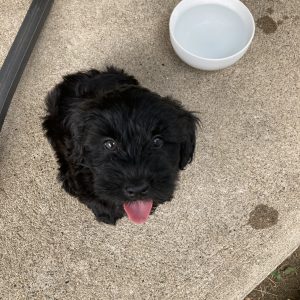 We purchased Toby (now Samson) from Rachel and David Fischer. Yesterday. What a wonderful experience meeting this family and their pups. These pups are raised with their kids and they are excellent with them. Upon our arrival the kids brought out all of the puppies. The puppies were clean and well taken care of. If you are in the market for a good whoodle, I would highly recommend this breeder. Samson is doing well and will be a true joy bringer to our family. There are a few of Samson's brothers left. Get them before they are gone. They are in great shape.

Todd & Cindy Qualley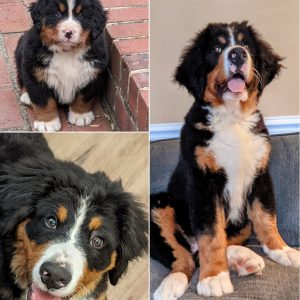 I had an outdoor Berner as a teen but haven't had a dog since living on my own. Earlier this year my friend sent me a Greenfield link and the search began. I got Murphy at 8 weeks from Elam and Marian Beiler in Christiana, PA on the way to look at another litter but once I saw Murphy- how could I say no, right!? Both Elam and Marian were easy to deal with and their puppies looked happy and healthy. Upon arriving, they showed me the sire (Sarge) and it made me feel good about Murphy's potential. I brought him home and in the 2.5 months I've had him as an indoor dog, he's NEVER pooped in my house! So he's somewhat housebroken/somewhat very smart. I took him to my vet for his last puppy shots and in under 3 months he's gone from 15 to 55 pounds! Just a furry floof. He likes sticks more than toys and eats treats like a vacuum. He's definitely a chewer (still teething) but I'm looking forward to his adult teeth and "the goodest boy" he's becoming!

David Gibbs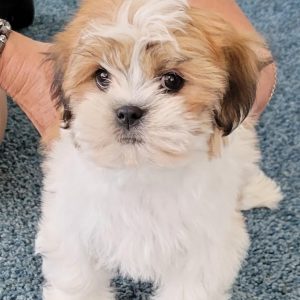 My husband and I were so happy to find Greenfield Puppies in our search for a new addition to our family. Jordan has been with us for a short time, has been examined by our own personal vet and came away with a clean bill of health. He is happy, content, playful and all we could ask for in an 8 week puppy. The Stoltzfoos family was very sweet, and Steven took all the time we needed to answer our questions. If you are in a search for a new puppy, I would definitely recommend Greenfield Puppies.

Joanne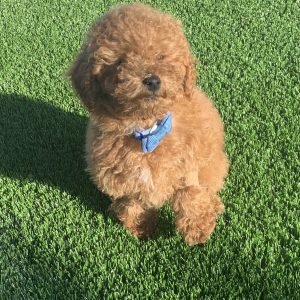 After searching for months and being scammed by a so called breeder in California, my friend told me about Greenfield Puppies. I was a bit hesitant at first because I'm in California and the breeder was in PA but thankfully all went well. I got my miniature poodle from a breeder named Ivan Stoltzfus from Seven Valleys PA. The whole process went smoothly and I got a healthy and sociable puppy that I love. Thank you greenfield puppies for having honest breeders on your site!

Laura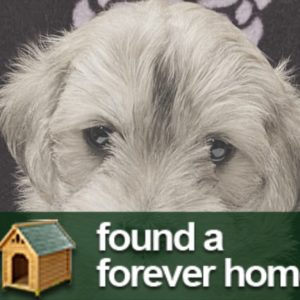 I purchased a Yochon puppy from Serenity Acres Breeders in New York state. Lois, was extremely helpful in working with me as I am in California. The two main breeds Lois raises are Yochons (Borkies in California) and Cavalons. While this was a long distance transaction we had to accommodate, the pup I received was a very well adjusted and happy dog. I recommend this breeder highly as her dogs are raised in a family environment with a lot of attention and care. Trevor is all that Lois stated. It took a lot of trust in her to buy her pup at that distance, sight unseen, but all that she said about Trevor was truthful. If a good pup of either breed is wanted, Lois is the person to deal with.

Joel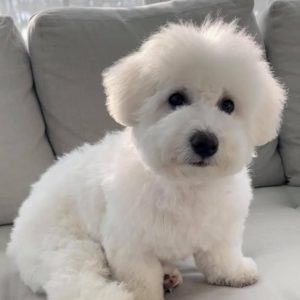 We got our 8 week old bichon frise from Sam Fisher back in December 2020. We were very nervous given some of the negatives online reviews about getting puppies from the Amish, but we called one of their references, who had great things to say. When we saw the puppy (listed as Noel on the website), our kids fell in love instantly. He was even cuter than the picture and didn't have any tear stains like many bichons do. Sam and his wife were lovely and we were thrilled it all worked out. Our Kody is now 7.5 months old, incredibly sweet, and such a wonderful part of our family.

Jane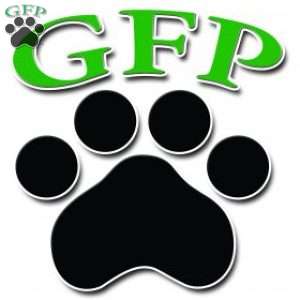 I got my boxer from Michael Zook. She's a great puppy. When we went there, the pens were spotless and all the puppies were alert and peppy. I've had several boxers over 35 years. Lexie came with no bad habits.

Gretchen A.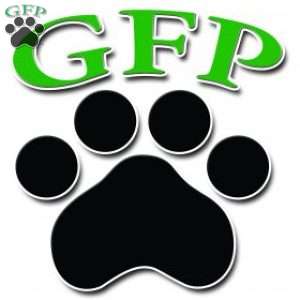 Have nothing but praise for Brandin and Julie Hughes of Ottsville, Pa.
They were prompt and informative when first contacted, and their beautiful property (they raise service animals) was clean and welcoming. We met the mini goldendoodle named Wonder, now Cara (mel), and both her parents. Both Brandin and Julie are organized and full of useful info; we came home with a binder with all the pertinent data, which our vet appreciated.
The puppy is making the transition from bucolic farm to suburbia with new noises, smells and surroundings. She couldn't be sweeter and we are very happy with her.

Barbara Ross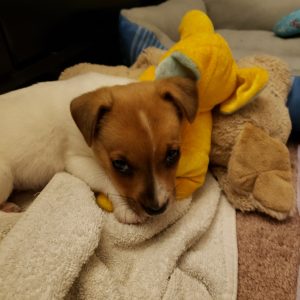 I got Jack Jack from Jake King in Lititz, Pa. Jack has been a wonderful addition to my little family and we couldn't be happier. Lovely people and home will highly recommend.

Trish B.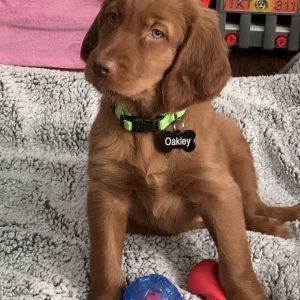 We got our little Oakley (formerly Holden) from Rebecca King (breeder) in Blain, PA. He is such a sweet puppy and so fun to have around. Very calm temperament, healthy and you can tell he came from a loving home! Rebecca made the process so easy. She was very knowledgeable and kept us informed. We continued to receive updates prior to receiving him. Would highly recommend this breeder! We are so lucky that we were able to find Oakley and bring him to his forever home!

Katie Raygor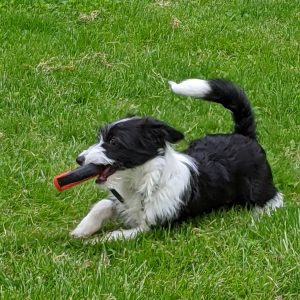 We purchased a Corgipoo, from the Zimmermann Family in East Earl, PA. What a great experience, it is to have such a wonderful dog. Claire AKA Dawn was so well socialized, that the vet exclaimed," She is an awesome puppy, so well socialized, where did you get her? " My husband and I feel really lucky to have her. There were no games. A super healthy puppy with a great temperament is exactly what we got. A lot of care and love went into this puppy before she found her forever home. She is a great puppy.

Valerie Toth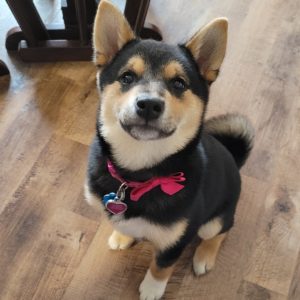 We got our sassy, smart, & playful girl in March from New Holland, PA (breeder Jake) and couldn't be happier. She is very loved and spoiled, and oddly enough for a Shiba Inu, likes to cuddle (which we don't mind at all 😁). She is very much enjoying walks and hiking in Alaska. The process to get her was very easy, and being all the way in Alaska, the breeder helped us find a wonderful puppy nanny to bring her on the plane up to us. Looking forward to many years with her. We will definitely be using Greenfield puppies again in the future. Thank you!

Carmen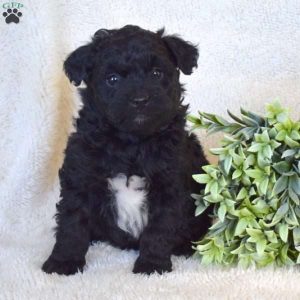 We bought a Mini AussieDoodle 3 Months old from David & Linda Fisher in Bird in Hand Lancaster, Pa We are so Happy with him, He is so Smart, Lovable, and Happy, Poe loves people and other Dogs and loves to go to Puppy school. Thank you David & Linda for Poe, he is Great, and Thank You too Greenfield Puppies.

Patricia Banus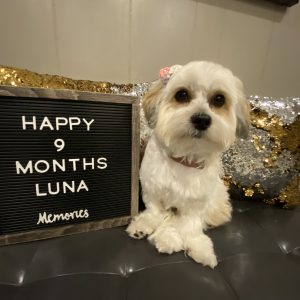 This is our second time we got our puppy at Greenfield. We felt like our Cockapoo dog (male) need a sister so we searched and fell in love with Mitzy now named Luna. She is now 9 months old. She is a teddy bear dog/Shichon. We got her last October 2020 in Morgantown, PA. – Sam Fisher (breeder) They are very lovely family. And they're really happy to see that we have another dog because we brought him as well to immediately introduce Luna. We're so happy that Pocholo our cockapoo dog fell in love with Luna on the spot! Luna is such a smart dog from day one. She likes to observe and not a barker thankfully😅. Super sweet and she can be feisty if she really wants to, lol! She's a brave girl, loveable and really know how to read Pocholo's mind all the time.🤣Which is so funny to watch them play together. They get a long so well! We're really glad we decided to get her. Thanks to Sam Fisher for raising a healthy and super sweet puppy.

Jas