Greenfield Puppies Reviews
We love dogs and people and people with dogs.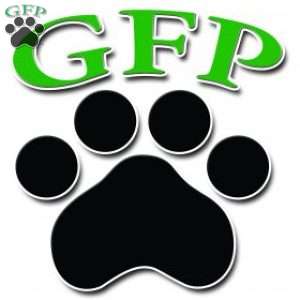 Have nothing but praise for Brandin and Julie Hughes of Ottsville, Pa.
They were prompt and informative when first contacted, and their beautiful property (they raise service animals) was clean and welcoming. We met the mini goldendoodle named Wonder, now Cara (mel), and both her parents. Both Brandin and Julie are organized and full of useful info; we came home with a binder with all the pertinent data, which our vet appreciated.
The puppy is making the transition from bucolic farm to suburbia with new noises, smells and surroundings. She couldn't be sweeter and we are very happy with her.

Barbara Ross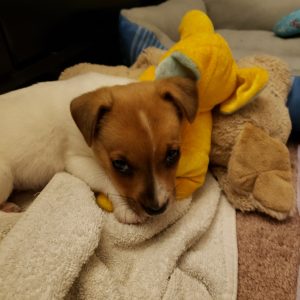 I got Jack Jack from Jake King in Lititz, Pa. Jack has been a wonderful addition to my little family and we couldn't be happier. Lovely people and home will highly recommend.

Trish B.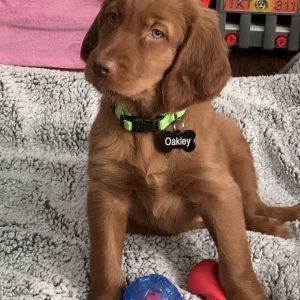 We got our little Oakley (formerly Holden) from Rebecca King (breeder) in Blain, PA. He is such a sweet puppy and so fun to have around. Very calm temperament, healthy and you can tell he came from a loving home! Rebecca made the process so easy. She was very knowledgeable and kept us informed. We continued to receive updates prior to receiving him. Would highly recommend this breeder! We are so lucky that we were able to find Oakley and bring him to his forever home!

Katie Raygor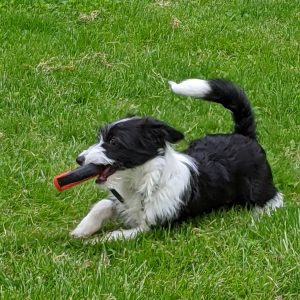 We purchased a Corgipoo, from the Zimmermann Family in East Earl, PA. What a great experience, it is to have such a wonderful dog. Claire AKA Dawn was so well socialized, that the vet exclaimed," She is an awesome puppy, so well socialized, where did you get her? " My husband and I feel really lucky to have her. There were no games. A super healthy puppy with a great temperament is exactly what we got. A lot of care and love went into this puppy before she found her forever home. She is a great puppy.

Valerie Toth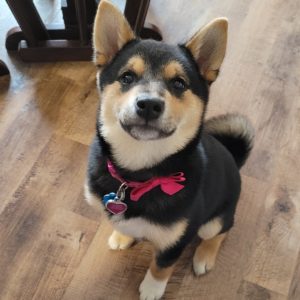 We got our sassy, smart, & playful girl in March from New Holland, PA (breeder Jake) and couldn't be happier. She is very loved and spoiled, and oddly enough for a Shiba Inu, likes to cuddle (which we don't mind at all 😁). She is very much enjoying walks and hiking in Alaska. The process to get her was very easy, and being all the way in Alaska, the breeder helped us find a wonderful puppy nanny to bring her on the plane up to us. Looking forward to many years with her. We will definitely be using Greenfield puppies again in the future. Thank you!

Carmen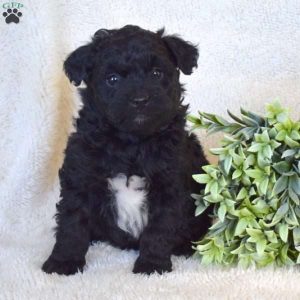 We bought a Mini AussieDoodle 3 Months old from David & Linda Fisher in Bird in Hand Lancaster, Pa We are so Happy with him, He is so Smart, Lovable, and Happy, Poe loves people and other Dogs and loves to go to Puppy school. Thank you David & Linda for Poe, he is Great, and Thank You too Greenfield Puppies.

Patricia Banus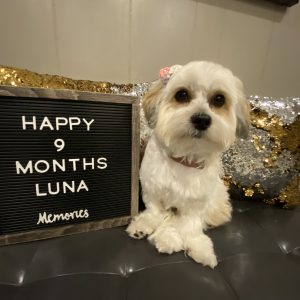 This is our second time we got our puppy at Greenfield. We felt like our Cockapoo dog (male) need a sister so we searched and fell in love with Mitzy now named Luna. She is now 9 months old. She is a teddy bear dog/Shichon. We got her last October 2020 in Morgantown, PA. – Sam Fisher (breeder) They are very lovely family. And they're really happy to see that we have another dog because we brought him as well to immediately introduce Luna. We're so happy that Pocholo our cockapoo dog fell in love with Luna on the spot! Luna is such a smart dog from day one. She likes to observe and not a barker thankfully😅. Super sweet and she can be feisty if she really wants to, lol! She's a brave girl, loveable and really know how to read Pocholo's mind all the time.🤣Which is so funny to watch them play together. They get a long so well! We're really glad we decided to get her. Thanks to Sam Fisher for raising a healthy and super sweet puppy.

Jas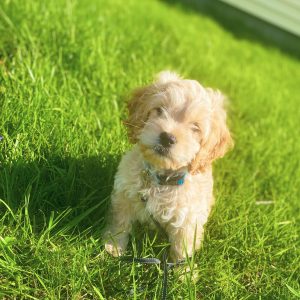 We drove 5 hours from Massachusetts to Pennsylvania to adopt our cockapoo puppy Marley (now named Ollie) from Joshua Martin from Denver, PA on April 28th, 2021. Joshua made the whole experience very pleasant, and Ollie is such a great boy! He's up to date on all his vaccinations and Joshua provided us with a bag of dog food for our road trip back home with him. The whole process was very pleasant and easy, from a quick call back to picking Ollie up 2 days after. Ollie is such a happy and playful puppy and our whole family is absolutely in love with him. We can't thank Joshua enough for being awesome to work with!

Abby Sanchez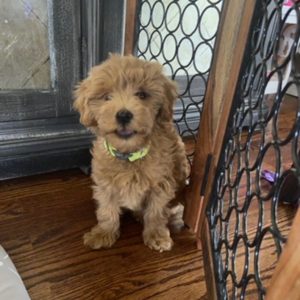 Anna Lapp is an amazing person with a beautiful family and she is an awesome breeder. 2 years ago we adopted Daisy our mini- bernedoodle from Anna who we found through Greenfield Puppies. Daisy was our first puppy adopted through a professional breeder. Anna is just a very special person. Honest, honorable and very patient. We are now celebrating Daisy's 2nd birthday. She is a great dog, happy, healthy and easily trained. A month or so ago we decided to adopt a 2nd puppy and we called Anna. She turned us onto a new breed….Mini Golden Doodles. Well we went and picked up our new addition from Anna this past Tuesday. We fell in love with Archie our 8 week old mini golden doodle. Anna is simply the best and always helpful with scheduling and answering all our questions. Daisy has been an absolute pleasure and Archie is already settled in and we are enjoying every minute with him. THANK YOU ANNA

Bill & Neni Pascrell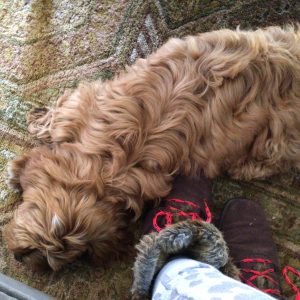 I found Yogi on this site with an easy search for a mini berndoodle. This little one popped up and i was so in love already. The owners Aaron and Sara Esh were so helpful with arranging transport. Their driver was also fantastic. Yogi is more adorable in person and sweet as sugar bi got my first kisses on our ride home and after a bath, water, snack and several walks, he's now asleep at my feet.

Harriet H Hersh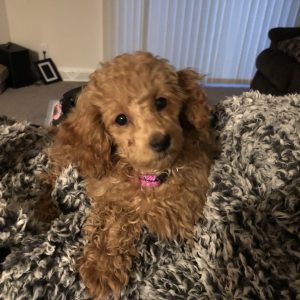 We adopted Coco from Lucy Martin from East Earl, PA and are so pleased! She is a beautiful Cavapoo who is in perfect health! Coco is a loving pup who has lots of kisses for everyone! She enjoys playing with our cats and with us. Lucy was great to work with – she was helpful during our search and answered all our questions. She truly loves her puppies and it shows! I have already recommended her to my family!

Dee Henry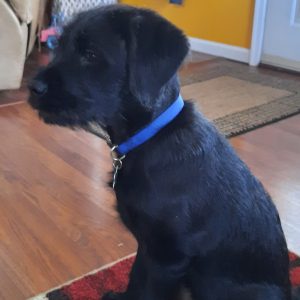 We got Brantley (renamed Asher) from Emanuel Glick in Gap, PA on January 25, 2021. We can't say enough good about the whole experience! Asher is a very healthy in every way mini labradoodle who provides much needed love following the death of our son. Emanuel Glick and his wife were exceptionally friendly, informative and helpful with the whole process from choosing, to paying for, to the wonderful day that we brought him home. We had the honor of meeting Emanuel and a couple of his adorable children. They greeted us with a huge gift basket containing things for my husband and I and our puppy. Emanuel has even called us repeatedly to check on our new fur baby. We've gained a new friend. Thank you so much to the Glick family and Greenfield Puppies! We highly recommend getting a puppy from them!

Laurie & Roger Woolley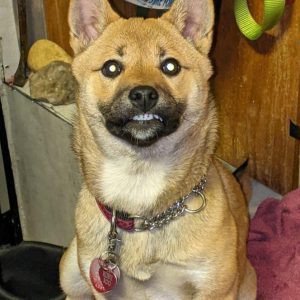 I got Ruby last year in October from Lois Shirk in Dundee NY. Ruby is absolutely fantastic, she has good breeding, she was in perfect health when we got her and being raised by Lois and her children made her a very happy and well balanced puppy. She took the 6 hour drive with ease after we picked her up, has been incredibly easy to train, and she's been an incredible addition to our family. Lois clearly cares about her pups, their breeding and socializes them perfectly before going to their new homes. The puppies get the absolutely necessary time they need with their mother to be well rounded and well behaved pups. I highly recommend Lois and her pups for anyone looking for a good Shiba Inu.

Stefanie S.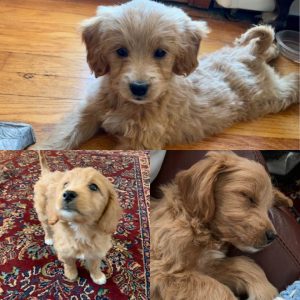 We got our Miniature Goldendoodle, Macy, 10 days ago from breeder, Anthony Stoltzfus. We picked Macy up when she was 8.5 weeks old. She is a healthy, sweet, social puppy. Her good health and disposition makes me confident that she was well cared for as a newborn Anthony was helpful and responded quickly to texts and phone calls as we worked through the transaction. She had her first vet appointment yesterday and the doctor said everything looks great. We are in absolute love with our pup! Thank you!

Mary Maher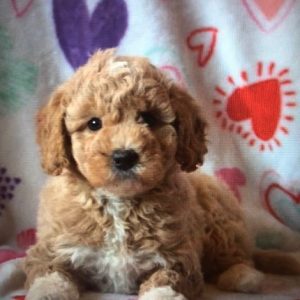 This is our first puppy. A friend of mine told me about the Greenfield Puppies website. I found my puppy on a Monday, called Tuesday and left a message. I fell in love the moment I saw her face and knew I couldn't take a chance losing her. Early Wednesday morning, I called the breeder Anna Lapp and she was excellent to work with in this process. I think I made a pest of myself calling so often but Anna was very patient! My husband, son, and I picked up the newest member of our family on Saturday, February 20th. Anna Lapp and her children were very helpful and I highly recommend adopting a puppy from her.

Madeline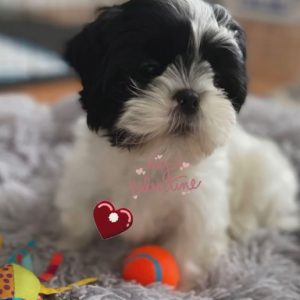 Our family got our 2nd Shih Tzu puppies through Greenfield Puppies. Our first boy who is 1 year old now is a beautiful healthy shih tzu.

But we realized that nothing would be better for him as to get him a little brother. We just got our 2nd pup (Apollo) from John & Sarah Stoltzfus in Honey Brook PA.

I can not express the happiness and satisfaction we have with the entire process. Not only we got the most beautiful puppy, Sarah was an absolute pleasure to deal with. The moment I walked into the house, I knew that her puppies were raised with pure love.

When I came to pick up a pup, I actually wanted to get another one we chose from the pics but this did not let me go from the moment he saw me. Sarah had no problems changing the paperwork for me as she saw the love at first sight we had with this beautiful boy. And today she called to follow up and see how he's adjusting.

When I got him home, I was going to follow all the steps for introduction to another dog, yet the two of them hit it off from the second they met. He immediately went to the wee wee pad to do his thing and have been going outside as well – snow or rain.

It'll be a week since we got him yet it feels like he's been with us forever. He didn't just came to our house, he came HOME.

Thank you Sarah for the ultimate gift to our family.

Alexey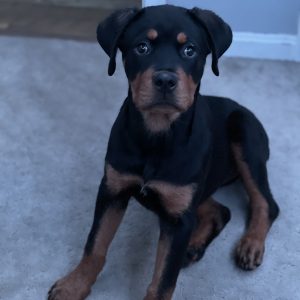 I was looking for a Rottweiler puppy for my stepmother and was scammed before and i kind of just gave up! My friend had told me about Greenfield puppies so i just was curious and started looking and found Emerald ( was her name on here ) so i contacted Moses the breeder, he got back to me right away! He let me come see her and play with her before purchasing! My stepmother fell in love with her! I would 100 percent recommend!

Brianna Cook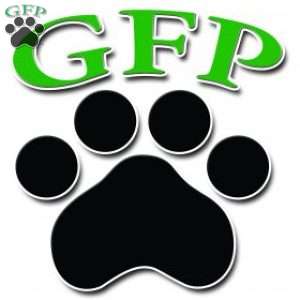 I consider myself extremely skeptical. I had dreamed about about adding a new addition to my family for years. I finally decided to move forward. I tried to adopt a rescue but things fell through. An in-law had just added to their family and recommended the site. While still trying for a rescue,, i started visiting this site. I saw so many beautiful furbabies just waiting to be picked up. There were so many choose from. I read endless reviews. I came across a puppy that just stole my heart. Just after Christmas and prior to my Birthday, I brought her to her forever home. The breeder was very nice and the transaction was smooth.. I couldn't be happier. It's been 7 weeks and all is well with Sasha.

Sakeenah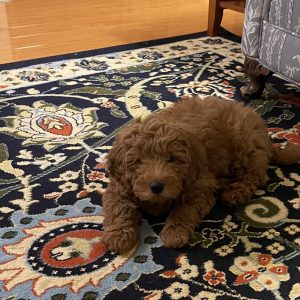 It's been 2 weeks since I got my lovely puppy (Donovan). He is such a heathy and very playful puppy. I have so fun and good time with him. Thank you Greenfield puppies helping me to find him and specially, thanks to breeder Eli Fisher in Strasburg PA who provided a beautiful puppy. I will coming back to have another one in the future. Now I just enjoy my puppy . Love!

Joseph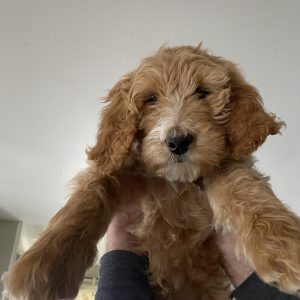 Thank you Greenfield puppies for helping us find Wilma! We called some local breeders and no puppies were avail for almost a year. We took a look at your website and found Wilma in our search for Labradoodle puppies. The breeder Emanuel Fisher in Gap Pennsylvania made the whole experience easy and seamless. He quickly returned my phone calls and texts. Had the puppies avail that we wanted to see and even let us see more from the litter and the puppy's mother. We already visited the vet and everything is perfect. We even kept the given name Wilma from the breeder. Our family couldn't be happier.

Allison Colpo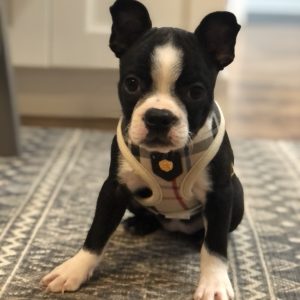 We got an amazing Boston Terrier puppy named Dolly, She's healthy, kind and loves to play and run. We got her from a breeder named Sylvan Fisher in Kinzers Pa and he was very easy to talk with he was very kind and he told us everything about the pup. We have had her for a little while and she's already grown so much.

K .O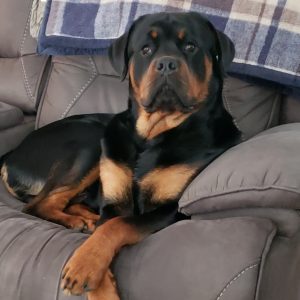 Hi everybody. I bought my 1st Rottweiler puppy last year and have been in love ever since. I contacted the same breeder and have purchased another Rottweiler puppy and am looking forward to getting him in 2 weeks. The breeder Josh Zook has been wonderful and has accommodated us in every way possible as I live over 2 hrs away. I highly recommend Josh Zook of Gap Pa. Who knows, I might end up with a 3rd dog next year.

Dennis Clanton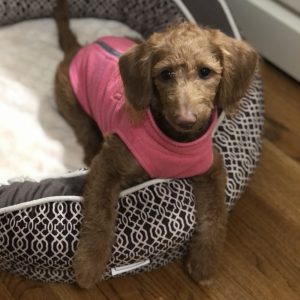 We adopted our Beautiful, Loving puppy from Ben Smucker. Him and his wife were delightful and answered all our questions. We met MOKI'S mom Sheila who was also a beautiful dog. Moki has brought so much happiness to our household and is loved by everyone she meets. She is a beautiful, healthy loving puppy! Thank You Ben and family.

Jennifer Tarullo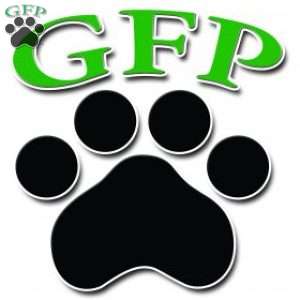 hi yall… from Okeechobee fla.. we had a chocolate lab..WINSTON…..he passed 7 moths old a brain issue he passed…so are hearts were broke…..so we wanted another fur baby we have a sweet black lab.. willow … she was sad too. i came across GREENFELD PUPPIES…. and we seen… TEDDY..A sweet silver lab out of… plain field Pennsylvania the breeder MATT was very kind and answered all of our guest ions about shipping… TEDDY to FLA he got all the papers work MATT told us about the THE HAPPY PUP SHIPING…. no problem on pick up at fla thank you matt for a great great experience we changed his name to… ranger…. doing great and healthy 3 and half mths old …. thank you matt and family for taken so much care for your puppies ….ty

William Young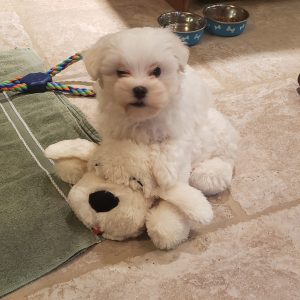 I had been researching breeders for several months in a search for a Maltese puppy, when I came across your site. I contacted Chris S to find out about "Gavin." He answered all my questions and immediately invited us to his home to meet the 2 males he had available. Chris was responsive and transparent, something that is lacking in the breeding industry. We met the 2 pups and came back 5 days later to pick up our Bailey. Chris made sure to say we could call him whenever with any additional questions or concerns. The entire experience was fabulous, and Bailey is a wonderful addition to our family. I highly recommend Greenfield and Chris as an individual breeder.

Lisa W.